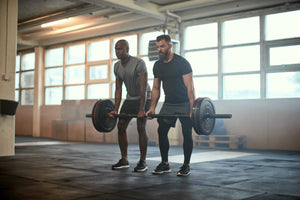 The right sports nutrition for your muscles.
DESIGNED IN GERMANY.
Give your muscles what they need: high-quality nutrition and a smart fitness diet. Our fitness products – designed in Germany of course – will not only help you to increase muscle mass but also to maintain it.
Our fitness products are full of proteins and also contain valuable amino acids, boosting your motivation to reach your goal. For effective muscle and tissue development and a healthy metabolism. We decided against added sugar, however, so that your muscles are as clearly defined as your training targets.
Ernährung zum Erhalt und Aufbau von Muskelmasse
In addition to optimum nutrition, your muscles need a strategic training plan. Functional training is one example of an approach which allows you to train several different muscle groups at once.
Read our blog post to find out what is behind the holistic workout method with which you train and strengthen several muscle groups at the same time.
Fitness Supplements für Muskelaufbau und Bodyshaping
Muskelaufbau und Bodyshaping bedeuten einen erhöhten Proteinbedarf. Eine abwechslungsreiche, ausgewogene Ernährung mit proteinreichen Lebensmitteln kann hier bereits eine Menge für dich tun.
Mit Fitnessprodukten wie Eiweißpulvern, Eiweißriegeln, Aminosäuren- und Creatinpulvern kannst du deinen Ernährungsplan ergänzen, wenn dir die Mahlzeiten pro Tag zu viel werden oder du mal eine Mahlzeit aussetzen musst.
Vor allem bei intensivem Krafttraining kann der Proteinbedarf zudem so hoch werden, dass Muskelaufbau ohne Supplements wirklich zur Herausforderung wird.    
Our online store.
The quest for the right sports nutrition should not require a show of strength from you. Fortunately, you know what you want and now you also know that you can always get it in our online shop where you will find everything you need for effective muscle development. Because you have the motivation and we have the goods.
KEEP EXPANDING YOUR HORIZON.
DEXTRO ENERGY* STORIES ON THE TOPIC OF MUSCLE BUILDING.
Strength training is most beautiful when you train with heart - and with mind. Do you know how to train efficiently with the use of supplements? Or how weight training and vegan nutrition go together?
If you want to learn more about this and other topics, visit our Dextro Energy* Stories now. For example, you can learn here how important protein is for you in weight training. Interested?
* enthält Kohlenhydrate 
** smarter Mix mit hohem Proteingehalt, ohne Zusatz von Zucker (ENTHÄLT VON NATUR AUS ZUCKER). 
1 Proteine tragen zu einer Zunahme an Muskelmasse bei 
Eine abwechslungsreiche, ausgewogene Ernährung und eine gesunde Lebensweise sind wichtig.